Back when the Dramatica Email List was still working (run by Bill Schindler at bitranch.com) there used to be a Table of Scenes Generator on the site that would generate a two page chart from a user's Plot Sequence Report and Story Engine Settings Report.
All one had to do was paste in the plain text versions of those reports into text fields on the site, and it would generate the Table of Scenes.
Does anyone know if this has ever been recreated or re-implemented elsewhere? If so, I'd love to know about it.
I've held on to some old sample Table of Scene files that I generated a LONG time ago, and I recently used those old files as a template to make my own customized Table of Scenes for a story I'm working on.
Unfortunately, without the online generator, I had to do the whole thing manually.(which took a couple of days).
I went further than the old Table of Scenes and included everything from the element level as well (as far as the exploration of variations is concerned). I ended up with an amazing one page document that includes every last Story Point from Dramatica, for my story. Now I can refer to it when I'm struggling to remember all my various story considerations.
Here it is, below: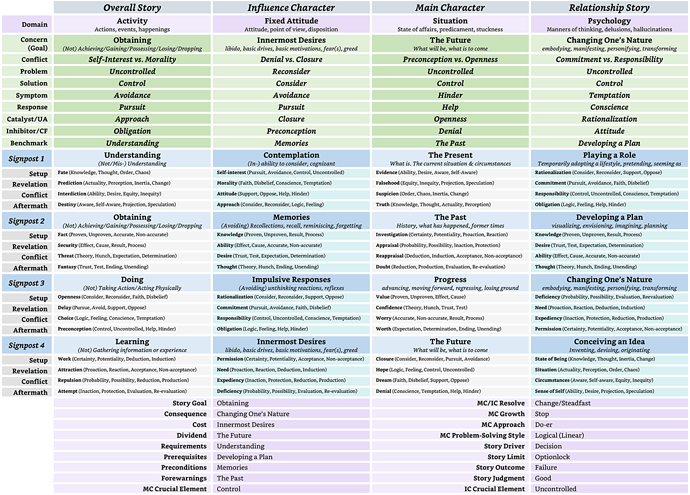 I created it in Microsoft Word and saved it as a PDF, and then converted that to an image. If anyone would like a blank copy of the Microsoft Word *.docx file for their own use, I'd be willing to send it to you via email. Just PM me.
So again, does anyone know if the good old Table of Scenes Generator exists somewhere online, or if someone has made a little utility to generate one?
Thanks!